This was a project I did a few years ago, and some reasoning behind it.
DOES
one need an SPR/Mk.12-style rilfe, IN the urban jungle? Can one be deployed
USEFULLY
, should the need arise? Would it be useful or even necessary, in that worst case, grid-down, SHTF situation?
If you live on the lone prar-
rie
- where a thousand yard shot is possible in all directions - perhaps the thought of "necessity" never crossed your mind. A long-range rifle is as necessary as a pickup, a tractor and a good pair of work gloves. But what if you live IN 'rowhouse central' - where frontyards are measured in square feet, you can hear your neighbor's TV... seven houses up the block, and your line-of-sight from the street level, almost NEVER exceeds 200 yards (and is
most
times LESS)? What purpose could it POSSIBLY serve
there?!
Living in the urban cessmaze, clearly the need FOR
an
AR is justifiable - what one must consider in such a place as this, are the
RIDGELINES
- one of the highest of which, I live along (elev. 1,200' above sea level at my house). 3rd story/rooftop deployment is all possible here, where one might actually take advantage of a 200-300 yard line of sight. Terrain features, structures, etc. provide a LOT of cover for 'restless sorts,' should it all hit the fan.
Having
not only the high ground, but the PROPER
tool
by which to utilize said high ground, is useful EVERYWHERE - hence the idea behind
this
project.
This was a bittersweet project to be a part of. My good friend and local builder, Kevin Johnson (Johnson Tactical Rifles, LLC) here in Pittsburgh finished my 18" SPR, in August of 2011. It was a LONG time coming, as barrel blanks were hard to come by that summer, but it was well
worth
the wait; his work always was. As it turned out though,
this
was in fact, JTR's
FINAL
rifle. I literally picked it up about 36 hours ahead of the moving van that moved him to a new job in Seattle!
If you wanted SERIOUS rifle work done (which my craptacular photography will
NOT
do justice to) in Pittsburgh, Kevin was who you went to. In fact, he did custom armorer work for the Pittsburgh PD, other local departments, and even the FBI. Kevin KNOWS his stuff
Some PARTICULARS on THIS rifle, for instance (from his website, which is now gone);
Quote
Quote:Features Overview
• Comes standard with a 1/8 twist, 18", Medium Profile 416SS barrel. Available with a number of other barrel options (See Below)
• Full Auto Carrier, High Pressure Tested and Magnetic Particle Inspected Bolt properly staked and lapped flat carrier key. Chrome lined Young National Match carriers available!
• Barrel chambered with matched bolt
• Standard with Troy Extreme 13" Rail. (Mine utilies the 15" Troy tube!)
• Available in Rifle or Intermediate, or Mid gas lengths
• 11 degree target crown
• Low profile gas block
• A2 Flash Suppressor
• Polished M4 feed ramps
• Mil-Spec Forged 7075 T6 upper receiver with T-markings, forward assist, hinged dust cover, and M4 feed ramps.
1. These uppers feature my Limited Life Time Warranty.
2. High Pressure Testing followed by Magnetic Particle Inspection assures a rock solid bolt.
3. 223 Wylde chamber increases accuracy and works with 5.56 NATO or .223 SAMMI spec ammunition.
4. Every upper is built by one person from start to finish.
5. I guarantee that every SPR Upper will hold sub-MOA groups and prove that by sending you a picture of the test!
6. I custom fit the rail/upper, chamber/bolt, gas block/barrel, and comp/flash hider interfaces to insure a highly accurate build.
7. We align our barrel blanks to 2/10000 of an inch bore alignment before threading or chambering!
8. These are uppers are built for pushing the 5.56 to ranges unheard of before. I use the Gritters or Two Line method to chamber my SPR barrels. It adds UP MOA to the shot allowing you more elevation at distance.
Quality Assurance
Every single upper that Johnson Tactical produces is fully tested before delivery to the customer. We feel your paying for quality and our job is to insure that is what you are getting! We start by manually inspecting every part, then as the build progresses it's fit with the other components. Some parts are hand fitted to ensure tighter tolerances. A good example of this is the gas block to barrel fit. This needs to be precise to eliminate gas leaks
​
I went with his custom nitrided barrel.
Quote
Quote:This is my stand alone nitrided barrel offering. Available configurations include:
-Only available with a .223 Wylde chamber currently.
-Includes a Headspaced, HPT/MP bolt with extractor upgrades
-Carbine, Mid, Intermeidate, or Rifle length gas systems with a .750 gas block seat that is 2" in length
-Single set screw seat indexed to the gas port
-Barrel lengths in 12.5, 14.5, 16, 17, 18.5, 20, or 24 inch
-18.5" lengths and longer are chambered using the two line method and timed up
-Available in a 1/7 or 1/8 twist rate (traditional rifling)
-My base profile is a modified medium contour.
-Comes standard with a 11 degree crown
-Threaded 1/2-28 at the muzzle
​
Mine features a Viltor MUR 1-A upper, BCM lower, and Giselle SSA-E trigger. My LaRue mount, Leuplod Mark/AR scope (I wouldn't have minded better glass, but given my limited line of sight, the Mark AR is an inexpensive choice to accomplish the task, in this case - I'm
still
contemplating some better Trijicon glass at some point down the road), and Optima 2000 offset dot are all installed as well. PWS FSC556 f/h, Troy BUIS, and bipod finish it off. I'm going with a basic 2 pt. web sling to tote it with, which has since been installed. Here we go.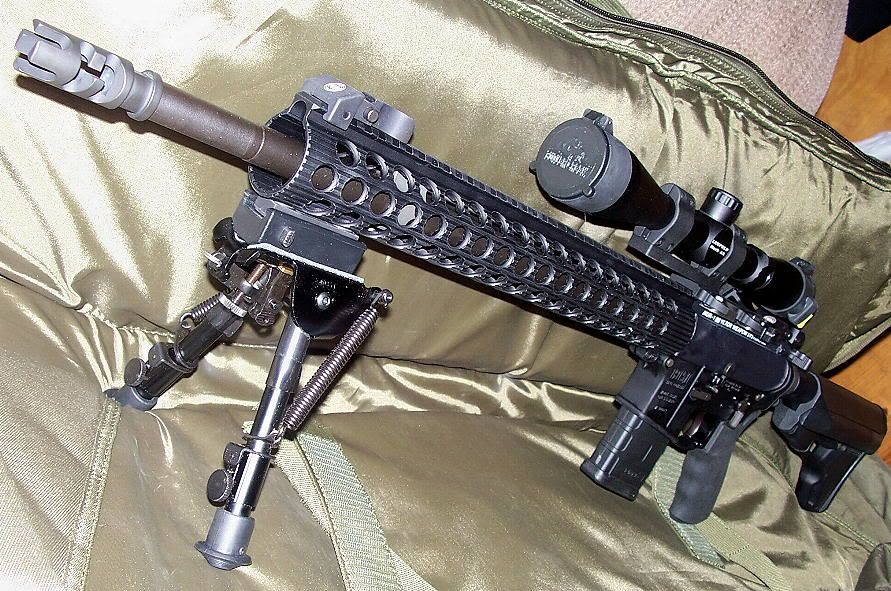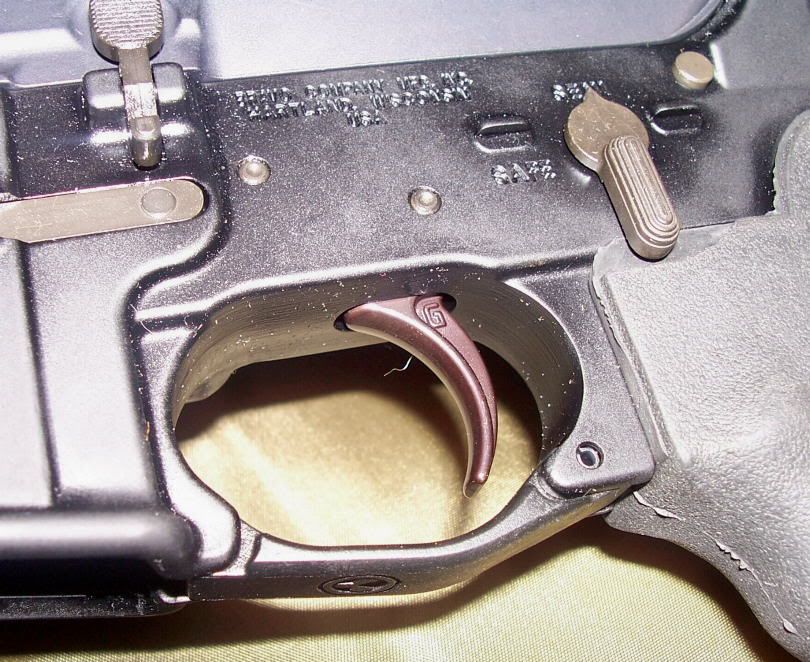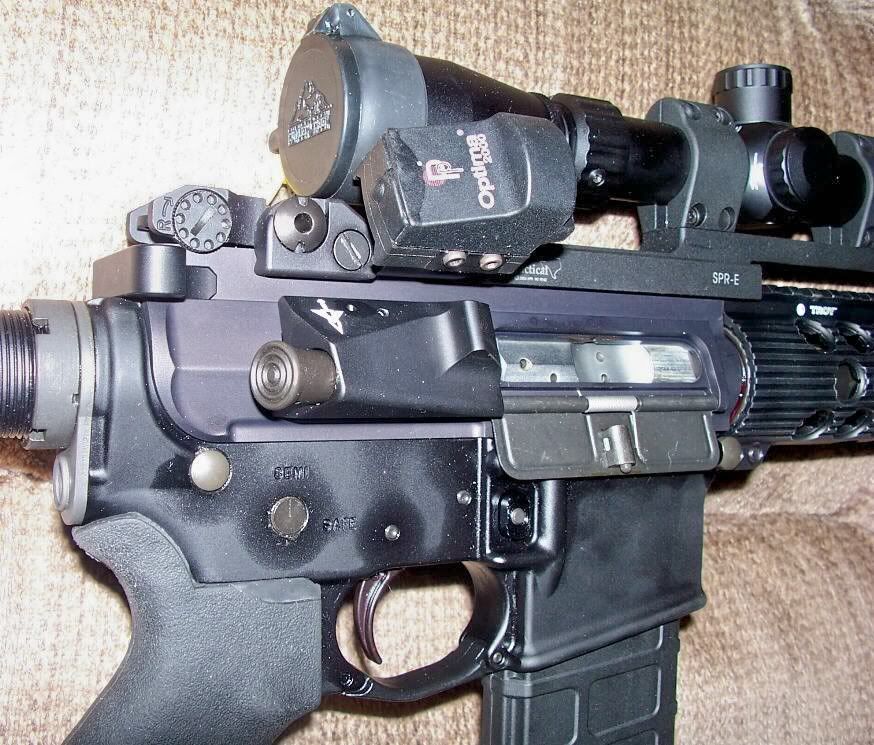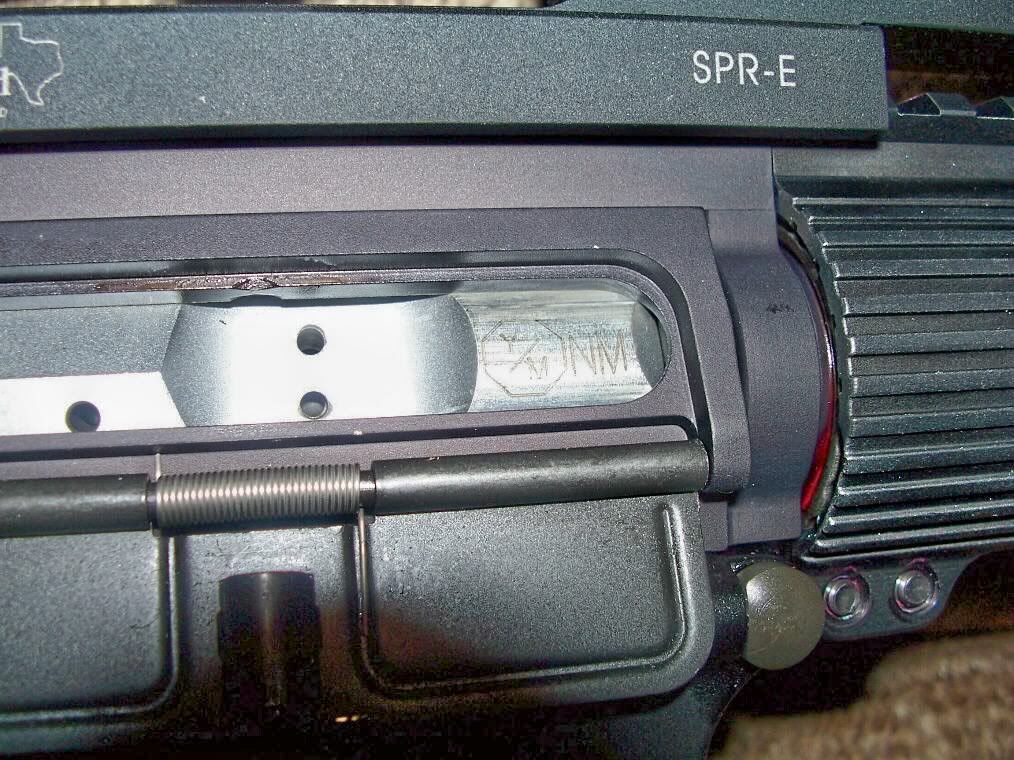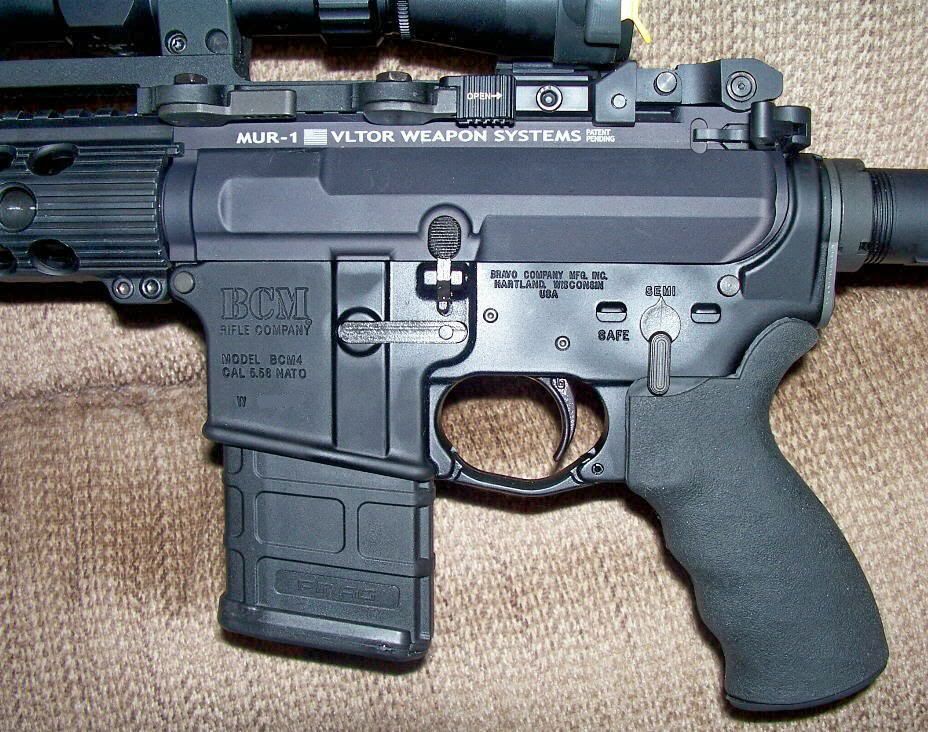 4+ years later, and I'm
still
bummed about Kevin leaving - I hope folks on the west coast treat him right. Not only is he a QUALITY rifle builder, but was a great sounding board - someone I could always call up or e-mail, and get a good, CORRECT, answer to my questions/problems.
He straightend out the TacSol upper I screwed up, sold me several parts - from lowers to optics along the way - added an ambi-safety to my Kimber UC II, built my Landshark lower (so I wouldn't scratch Sam's [Tactical Toolbox - Mapleton, OR] great cerakote job on it!),
and
built this SPR for me.
Because I had to, from time to time, go right past his house, I knew I could always drop in, shoot the breeze, drop off or pick up a project, and really tap into his expertise. It's one thing to get to know somebody by e-mail, or board posts, which we all do on these sorts of boards. But Kevin is GOOD people, so losing his operation here - as bad as that is - is made doubly worse, by losing HIM.
I finally got off my duff in 2013, and got rid of the Optima 2000 offset, and hung an Aimpoint T-1 2moa in the offset position on a DD offset mount. Because it was bigger, I did have to move it a bit forward, but it now looks like this (I've GOT to take some better pictures of it!)
Haven't HAD to deploy it as "designed," but it IS a tackdriver with Hornady 75 & 77gr. offerings. It remains, GTG,
whenever
needed
.